Police Arrest 11 People in North Texas Human Trafficking Prostitution Sting
Offenses of human trafficking and prostitution often go hand in hand. In northern Texas, law enforcement agencies recently arrested 11 people in a human trafficking sting in the area.
A report in MySanAntonio noted the Lewisville Police Department, The Denton County Sheriff's Office along with the Department of Homeland Security conducted the sting in May.
The departments said the operation was intended to rescue human trafficking victims, with authorities in the area continuing to round up victims and suspects.
Earlier this year, we noted how Texas is seeking to step up its enforcement of human trafficking, giving an indication of the severity of the problem.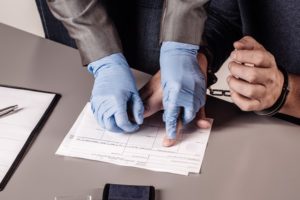 Texas set up the Human Trafficking and Transnational Organized Crime unit in January. The unit comprises three lawyers, a forensic accountant, five investigators, and a victims' advocate. Texas Attorney General Ken Paxton announced the increase in resources to target what he described as a horrendous crime.
However, critics claim the drive to stamp out sex trafficking has failed to help the victims who are criminalized in some cases.
An investigation in the Texas Tribune said the Lone Star State only puts a fraction of the resources it throws at prosecuting sex traffickers into helping the victims.
In the 2017 legislative session, state lawmakers opted to kill a $3 million initiative to rehabilitate victims of sex trafficking.
The move ended the hopes of child welfare advocates this year would be the first one in recent memory in which state lawmakers would set aside funds to boost those who were sold for sex.
The Tribune claimed Texas' political leaders repeatedly balked at funding victims' services, despite research showing that many had previous contact with the state's child welfare system.
The University of Texas estimates there are more than 300,000 victims of human trafficking in the state.
These include almost 79,000 minors and youth victims of sex trafficking. There are almost 234,000 adult victims of labor trafficking, according to the groundbreaking study carried out by the Institute on Domestic Violence & Sexual Assault (IDVSA) at The University of Texas at Austin's School of Social Work.
If you have been charged with a trafficking crime you are likely to be facing a very hefty federal sentence. Please call Gary Medlin of the Medlin Law Firm for representation today.