DWI and Marijuana Use in Texas
Many states treat marijuana differently from other drugs. Some have even legalized it. However marijuana use can spell trouble if you are driving in Texas.
Texas has not decriminalized marijuana. If a police officer pulls you over for a suspected DWI you can be charged with DWI for marijuana intoxication.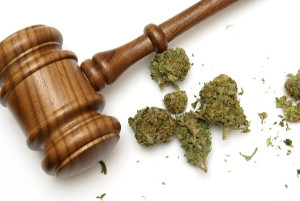 Drugged driving is not like drunk driving in that there is no defined limit. It's open to the whim of a police officer or a prosecutor.
Texas' drugged driving laws are set out in Chapter 49 of the Texas Penal Code. You commit a criminal offense if are found to be driving intoxicated. A driver is impaired if he or she lacks the normal use of mental or physical faculties due to alcohol, a drug, a controlled substance, a dangerous drug, or a combination of both alcohol and drugs.
There is no fixed level of drugs in your bloodstream in Texas that determines a conviction. A prosecutor will decide if you are intoxicated on a case-by-case basis. This puts an alarming amount of power in the hands of the prosecutor.
The Penalties for Marijuana Intoxication in Texas
Drugged driving cases can get complicated. Even if a chemical test reveals THC from marijuana in your blood, the amount that would prove that you were intoxicated is not very clear cut.
You should hire an experienced Ford Worth DWI lawyer. Drugged driving (DUID) can land you with a fine of up to $2,000 as a first offense and you could be jailed from 72 hours to 180 days. Your life will be disrupted because your driving license may be suspended for up to 100 hours.
Texas also has a controversial system of surcharges for some traffic offenses including DWIs and DUIDs. You can end up paying $1,000 or $2,000 a year for three years.
The penalties for driving under the influence of drugs will increase if it's a second or a third offense.
For a second conviction, you are likely to face a fine of up to $4,000, up to a year in jail and 80 to 200 hours community service. Your license could be suspended for up to two years.
A third conviction brings a fine of up to $10,000, between two and 10 years in prison, 160 to 600 hours community service and your license could be suspended for up to two years.
See our information about DWI and DUIDS here. Our Texas criminal defense lawyers have vigorously fought for the rights of drivers charged with intoxication offenses for decades. Call us at (682) 204-4066 for a free consultation.