Three Undocumented Immigrants Are Arrested for Kidnapping Texas Lawyer
Kidnapping is a very serious offense that is often dealt with in the federal courts. Recently, in Texas, three undocumented immigrants were accused of kidnapping an attorney in Orange County.
They were charged with burglary of a habitation. Two of the three men are accused of breaking into the home of Orange County attorney Jim Sharon Bearden Jr. on May 8. Investigators accuse them of tying up the lawyer and stealing high-value items including guns and electronics from the residence. The men were reported to be wearing masks.
Detectives with the Orange County Sherriff's Office Criminal Division picked up Henrry Eduar Rivera-Antunez, 17, German Adalid Borjas-Benitez, 19, and Erik Pagoada-Bustillo, 17, in Port Arthur shortly after the alleged crime.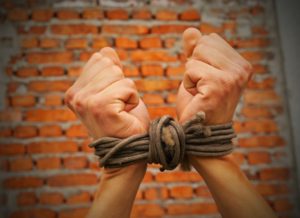 Two of the three suspects allegedly broke into the lawyer's home. The third suspect is accused of acting as the driver, waiting outside the home and serving as a lookout.
The three suspects then allegedly drove Bearden Jr. to a bank where they forced him to withdraw cash at which time they let him and his vehicle go.
A report on Port Arthur News said the three men were from Honduras.
A report on 12 News said the three men were arrested for burglary of a habitation, a first-degree felony and taken to the Jefferson County jail.
According to media reports, Immigration and Customs Enforcement (ICE) immediately placed detainer requests on all three illegal aliens.
Burglary of a habitation carries a higher penalty than kidnapping in Texas. Kidnapping has varying degrees of penalties, depending on its circumstances, but a burglary is charged as a first-degree felony when another felony is committed in the process.
Under the Texas Penal Code, burglary of a habitation is a second degree felony if it's committed in a home but it is elevated to a first-degree felony if.
The premises is used as a habitation and;
Any party to the offense entered the home with intent to commit a felony other than felony theft or committed or attempted to commit a felony other than felony theft.
A first degree felony in Texas carries a sentence of 5-99 years or life and a fine of up to $10,000.
If you commit a crime as an undocumented immigrant, you are also likely to face deportation by Immigration and Customs Control (ICE).
At the Medlin Law Firm, we handle a wide range of cases including burglary of a habitation, drugs offenses and DWIs. You can find out more about the cases our Fort Worth criminal defense lawyer handles here.
For more information on criminal cases we handle in Texas, a free initial consultation is a good next step. Get the information, help, and legal answers you are seeking by calling us today.