How An Immigration Lawyer Can Help You
In today's world, hiring an immigration lawyer is essential. If you're looking to immigrate to a new country, hiring a lawyer can be one of your first decisions.
Immigrating to a new country is an exciting and life-altering experience for most people. However, it can also be overwhelming. There are so many things to consider when moving to a new place, and it's important that you make sure you understand the whole process before making any decisions.
In addition to helping you understand what's required for your situation and how long it will take to complete each step, an expert lawyer can help guide you through any additional requirements such as background checks or medical exams that may be required by other countries before granting you a Visa or citizenship status. Click for more.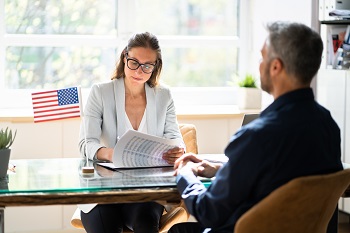 Immigration law is a tricky field, and it's easy to get confused by the jargon and legal procedures involved. That's why you need a lawyer who knows how to navigate the system and help you achieve your goals as smoothly as possible.
The process can be complex and can be difficult to navigate on your own. A lawyer can help you figure out exactly what steps you need to take in order to obtain the Visa or residency status that you want. Additionally, they can help you deal with any issues that may arise during the application process and ensure that everything goes smoothly from start to finish.
How To Choose An Immigration Lawyer? 
If you're looking to immigrate to a new country, hiring a lawyer can be one of your first decisions. It's important to choose the right lawyer for your case. The first step is to ask yourself: what type of immigration case do I need?
If you don't have an idea of what type of immigration case you have, a quick search online will help you identify which category your situation falls under. After that, it's time to start looking for lawyers who specialize in those types of cases.
Lawyers will help you determine if you need to apply for a Visa or Work Permit. They can identify if you may be eligible for permanent residence through your relationship with someone who is already living in the country.
You might also want to consider hiring a skilled lawyer if there are any criminal charges or convictions against you that could impact your ability to enter another country legally. Attorneys can assist with applying for waivers or other forms of relief from those charges so that they do not stand as barriers between you and your new home.
When searching for an immigration lawyer, make sure that they specialize in the type of case that you need help with. This will ensure that they are familiar with all aspects related to each individual type of case and can provide useful advice based on their experience working with clients just like yours before them. Once you've found a lawyer who meets your needs, it's time to get started on the process of getting a Green Card or becoming a citizen.
There are many things that can go wrong when you're in the process of immigrating to a new country, and it's important that you have someone by your side who knows what they're doing. If you have some questions about the process, the best advice is to seek out a lawyer who has experience in the field.
Why You Should Hire An Immigration Lawyer
While it's tempting to try and navigate the process by yourself, there are several reasons why hiring a professional is always better than trying to do it yourself. Here are three reasons why hiring an immigration lawyer is a good idea.
The Process Is Complicated
Immigration laws are complicated and changing constantly. There are so many factors that go into applying for citizenship or residency that it can be difficult to keep track of them all. It's easy for something to slip through the cracks or for an application to be denied because of a minor error or misunderstanding on your part. 
A skilled lawyer will know exactly how to avoid these common mistakes and ensure that everything goes smoothly throughout the process.
You Don't Have To Do All The Work Yourself
One of the biggest benefits of hiring a lawyer is that they will take care of every step in the process for you—from gathering all of your documents together into one place, submitting them on time, and filing any necessary appeals when needed. 
Immigration lawyers can help guide you through the process of moving to a new country and make sure that you don't miss any steps or deadlines along the way. They can also help you understand what options are available for your specific situation, as well as any potential pitfalls.
There are many things that can go wrong when you apply for citizenship in a foreign land, and if you don't know what to look for, it can be easy to get lost in the process. You may not know who or what to trust. If this sounds like you, then hiring an attorney is definitely something you should consider.
Not only will a lawyer help you avoid mistakes that could cost you everything, but they'll also tell you what to say and do to increase your chances of success.
Immigration lawyers have years of experience working with people just like you who want to become citizens of another country. They know what kinds of things might happen and what steps they need to take in order to ensure your application goes smoothly.
If you hire a lawyer, they will:
Help you understand the process of applying for a Green Card or naturalization.

Tell you if you qualify for any special exemptions or exceptions to the general requirements.

Prepare all the forms and documents correctly, which ensures that your case is handled correctly and you receive the results you want.

File your application with USCIS, so that it goes through the correct channels in a timely fashion.

Deal with any issues that arise during the application process, so that they don't delay your case further or cause it to be denied entirely.
What If You Don't Hire A Lawyer?
The Immigrant Resource Hotline provides up-to-date information about changing policies and referrals to legal services providers and immigrant rights organizers. But it is crucial to hire a lawyer.
The main disadvantage of not hiring a lawyer is that you could potentially get lost in the application process. Without the skills and knowledge of an attorney, it can be difficult to navigate the complex world of immigration law, especially if you have never been through the process before. 
Lawyers have years of experience handling applications like yours. They know exactly how to handle each situation so that you get what you're entitled to.
It's also worth noting that it's illegal for someone who isn't licensed by the state in which they practice to offer legal advice or services on immigration matters. This means that if you don't hire a lawyer, but decide to represent yourself, any advice you receive from someone other than an attorney may be inaccurate or even dangerous for your case.
Finally, when it comes down to it, hiring a lawyer saves you time and money in the long run. Immigration cases can take months or even years before they are resolved—and hiring a lawyer will help ensure that your case moves quickly through the system so that it doesn't drag on indefinitely.
A lawyer can help you understand the complex laws surrounding immigration and naturalization, as well as the various procedures that will allow you to obtain citizenship or residency. They can also help you navigate the application process, including providing a roadmap for filing forms and explaining what documents are required.
A lawyer can also help you avoid costly mistakes that could jeopardize your chances of obtaining citizenship or residency. For example, an attorney may warn you against any false statements on your application or provide guidance about what kind of evidence is needed to prove certain facts.
Your lawyer won't only be able to help with paperwork – they will also be able to provide advice about living in the U.S. Lawyers can also advise you on other aspects of life in America. You can get the best advice from lawyers familiar with immigration.
Let The Medlin Law Firm Help
Many people choose not to hire a lawyer. They think it will cost too much money or take too much time away from their daily lives. However, this is not always true. In fact, hiring a lawyer could save both time and money by helping you avoid costly mistakes that could delay or even prevent your immigration process altogether. 
If you need assistance on how best to navigate through the process then speak with an experienced lawyer. The Medlin Law Firm in Fort Worth TX is home to skilled and reliable immigration attorneys that can assist you in your case. Immigration cases can be complex and require specialized knowledge of the law and procedures. A skilled lawyer in Fort Worth TX can be a lifesaver, especially when it comes to immigration law.
(682) 204-4066 We cannot receive pictures via text so please send those via email or hand deliver to our office.
(682) 204-4066 No podemos recibir imágenes por mensaje de texto, así que envíelas por correo electrónico o entréguelas personalmente en nuestra oficina.