Your Rights When a Texas Police Officer Stops You on the Street
Our Fort Worth criminal defense attorney is often asked by clients what rights a police officer had to stop them. Police officer stops are a contentious issue in America right now.
During the recent Presidential election campaign the Republican nominee Donald Trump stated his support for "stop and frisk" laws.
Although these laws were used in New York for a period, they became the subject of numerous lawsuits that alleged a racial bias. These kinds of police officer stops are not permitted in Texas.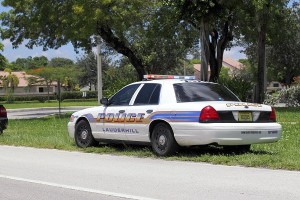 Under the Fourth Amendment of the United States Constitution, everybody has a right to be free from unreasonable searches and seizures.
We are most likely to experienced police officer stops when we are driving. It's always important to remember that a police officer must have a reason to stop you. You may have a light out, be speeding or be driving erratically.
However, an officer cannot simply see someone driving down the road and pull them over for no reason. That's an illegal stop.
A minor issue such as a light malfunction can give an officer a "probable cause" to stop you. But there must be a reason for police officer stops.
Police Officer Stops on the Street
We are also sometimes asked about stops on the street. Can a police officer stop you on the street and ask you random questions? Can you be arrested?
During an encounter with an officer you do not have to answer questions or even identify yourself. There is no reason why you can't simply walk away.
The police officer can temporarily detain you and investigate if there's a "reasonable suspicion" of criminal activity. The officer must be able to explain the facts. Although reasonable suspicion must be a set of defined facts rather than a mere hunch, it's a fairly low standard of proof. In other words police officers can usually find a way of justifying these stops.
During this detention to investigate, a police officer can require a member of the public to disclose his or her name and show a form of identification. You may be patted down for weapons if the officer fears he is in danger. In suspected DWI cases an officer can ask you if you have had anything to drink. You may be asked details of where you are traveling from and to. You do not have to answer any questions and you may invoke your right to remain silent.
Probable cause that the suspect has committed a criminal offense is necessary to make an arrest. This means that in given all of the circumstances, a crime has occurred.
Probable cause is not a high standard. It's considerably lower than the conviction standard of beyond all reasonable doubt.
If you are concerned about the legality of police officer stops or any other issue that has affected your constitutional rights and you have ended up arrested, you should contact an experienced Texas criminal defense lawyer as soon as possible. Call our Fort Worth law firm at (682) 204-4066.