The Role of a Grand Jury and How Jurors Are Selected
Texas is a grand jury state. However, there is often confusion about the role of a grand jury and how if fits into the criminal justice process.
Texas guarantees the right to an indictment by grand jury in all felony cases. It's the responsibility of the grand jury to decide whether to indict, or formally charge a defendant in more serious cases. However, a grand jury does not decide the guilt or the innocence of the defendant. Rather, the grand jury decides if there is enough evidence to indict the defendant.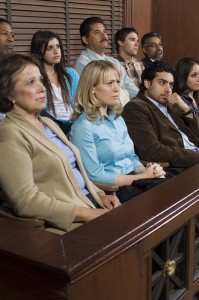 The trial will decide whether or not the defendant is guilty of a felony.
What are The Origins of the Grand Jury System?
The American grand jury system dates back to colonial times. It was brought in as a protection against oppression. The idea is behind the concept that nobody should be held to account for a serious crime unless a group of his or her peers has authorized the prosecution to proceed.
The Texas State Historical Association says the concept of the grand jury first appeared in England about the middle of the 12th Century.
Although it was originally set up to bring criminals to justice it has come to be regarded as a safeguard against unwarranted prosecution. The concept was incorporated in the Fifth Amendment to the United States Constitution, but the states have leeway over whether to use grand juries. The principle of grand juries was enshrined in the Texas Constitution of 1876.
How Does a Grand Jury Make Its Decision?
There's an important distinction between how a grand jury and a trial jury interprets the evidence against a defendant.
A grand jury must find probable cause for an indictment to go forward whereas a trial jury must find a defendant is guilty beyond all reasonable doubt which is a considerably higher standard of proof.
There's another key distinction. In Texas, at least nine out of the 12 jurors on a grand jury must agree on an indictment. Trial juries must reach a unanimous decision to convict a defendant.
Although grand juries are often seen as a mechanism to protect defendants, this may not always be the case. A disturbing investigation by the Houston Chronicle in 2014 suggested grand jurors were stepping beyond their powers in interrogating and bullying suspects and even threatening them that their children would be taken into care.
There is certainly a high level of secrecy in the grand jury process that can open it up to abuse. If you have been charged with a felony offense, it's important to hire an experienced Texas criminal defense lawyer.