Immigration crimes amount for majority of federal prosecutions
In 2016, immigration crimes made up more than half of all federal prosecutions. It's a trend that's likely to continue as the Trump administration cracks down on illegal immigration.
A report on Fox News pointed out immigration violations are now outpacing federal drugs operations, fraud, weapons charges and other crimes.
Over the last fiscal year, 52 percent of federal prosecutions, equating to 69,636 cases involved an immigration violation. There were 63,405 prosecutions for all other federal crimes, a study by Syracuse University's Transactional Records Clearinghouse stated.
The university had to sue the Justice Department to obtain the information.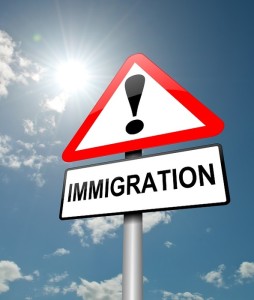 The total number of immigration prosecutions in 2016 was down 6.9 percent from levels from the previous year when such prosecutions totaled 74,791. It had also fallen 15.3 percent from the levels of five years ago when they totaled 82,250.
The figures suggest prosecutions for immigration offenses have risen dramatically over the last decade. There were 37,529 such offenses reported in 2006 and the 2016 figure is up 823 percent above the 7,543 offenses reported in 1996.
The two most common immigration charges being brought by prosecutors relate to illegal entry or re-entry to the U.S. Undocumented immigrants caught trying to get into the U.S. illegally can be convicted of a few months in prison or as long as two years for reentering the country after a deportation.
The Pew Research Center said the dramatic growth in offenses that end up in sentences in federal courts was predominantly driven by unlawful reentry into the country.
From 1992 to 2012, the number of unlawful reentry convictions for immigrants returning to the US after being deported increased 28-fold, from 690 cases in 1992 to 19,463 in 2012.
A change in enforcement policy accounts for much of the increase. Border Patrol stepped up its enforcement efforts at the border between the United States and Mexico in 2005. More immigrants who again sought to enter the country were dealt with in the federal courts. Before 2005, many of them were released.
As well as incarceration some of those who were caught re-entering the United States were slapped with a 10-year prohibition from entering the country.
A study by the Congressional Research Service found that criminal prosecution was the number one factor in cutting down on recidivism, or illegal immigrant re-entry.
Gary Medlin of the Medlin Law Firm defends people who are charged with federal offenses as well as state ones. The federal courts have harsh sentences. It makes sense to hire an experienced Fort Worth criminal defense lawyer. Call us at (682) 204-4066.